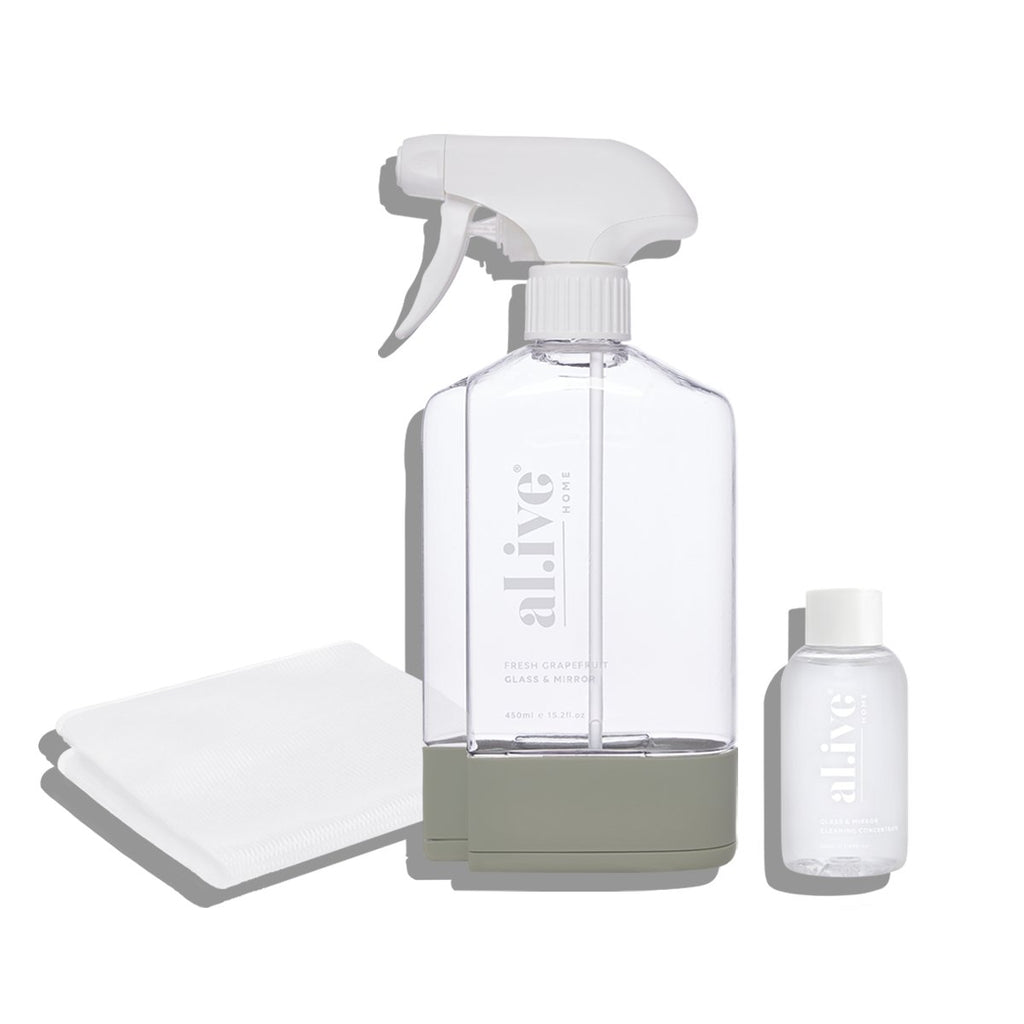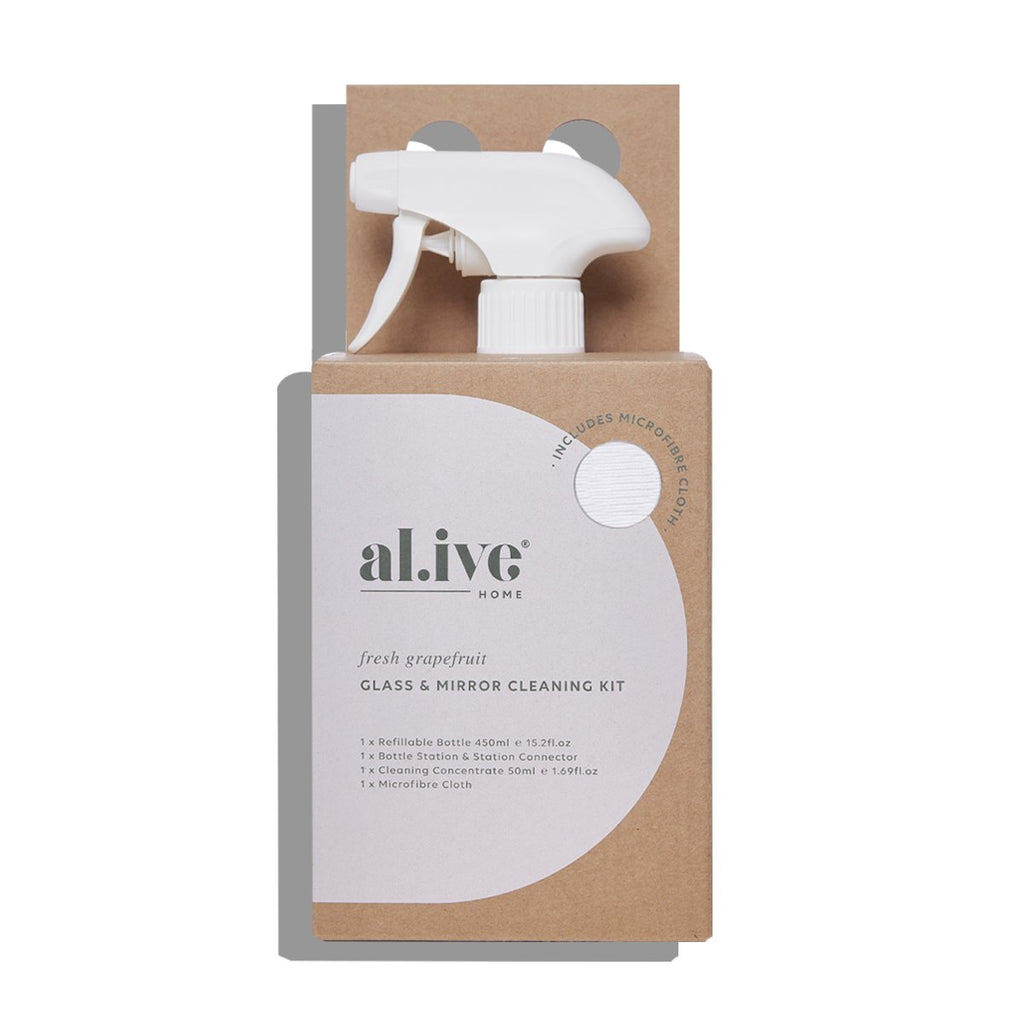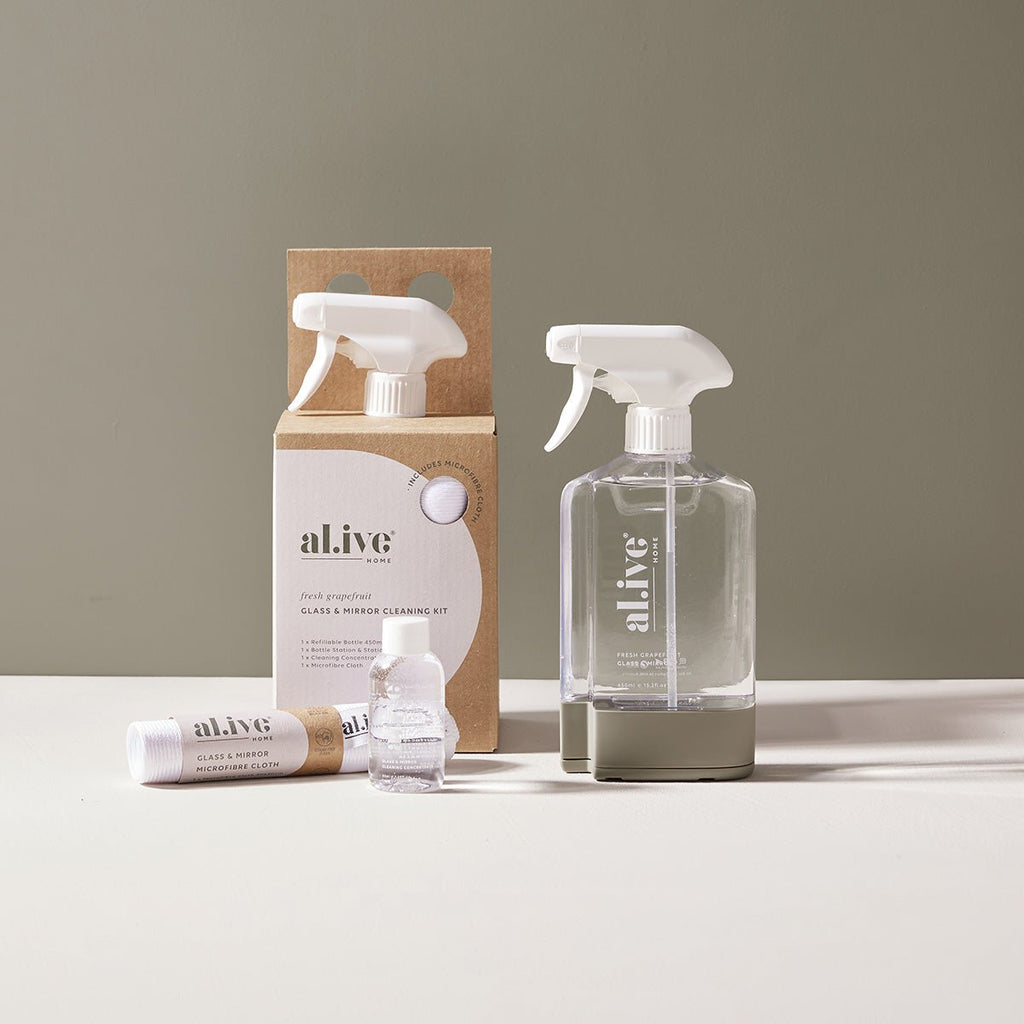 $34.00
$0.00
or make 4 interest-free payments of $8.50 AUD fortnightly with
More info
Glass & Mirror Cleaning Kit
ARRIVING APPROX 13 OCTOBER.
Introducing the Glass & Mirror Cleaning Kit, the ultimate solution when it comes to cleaning your shiny surfaces.

The design-inspired kit features a 450ml Refillable Bottle, Bottle Station & Connector, 50ml Cleaning Concentrate, and Microfibre Cloth expertly designed for streak free glass and mirrored surfaces.

The powerful Glass & Mirror formula will leave your shiny surfaces sparkling. The 450ml bottle is designed to last and can be refilled time and time again with our eco-friendly Cleaning Concentrate Refills, reducing plastic waste by 90% when compared to purchasing a full sized bottle.

Simply pour the 50ml Cleaning Concentrate into the Refillable Bottle,  fill up to the 450ml line with regular tap water and give the bottle a good shake. You are now ready to go. The vibrant scent of  Fresh Grapefruit will leave your surfaces smelling revitalised and clean.

With the al.ive home Cleaning Glass and Mirror Cleaning system, your shiny surfaces will be left sparkling and streak free, whilst being environmentally conscious.

Includes:
1 x Refillable Bottle 450ml e 15.2fl.oz
1 x Bottle Stations & Station Connector
1 x Cleaning Concentrate 50ml e 1.69fl.oz 
1 x Microfibre Cloth
The 450ml bottles are designed for longevity and to be refilled using our al.ive Home Cleaning Concentrate Refills. Our concentrate refills are 100% recyclable and made with 30% post consumer recycled plastic. Ensure you keep the lid attached to the concentrate bottle when recycling.

SCENT
A zesty burst of juicy grapefruit is beautifully balanced with a refreshing hint of mint, while subtle notes of hyacinth add a touch of sophistication to this invigorating fragrance. Let the fresh and clean aroma transport you to a tranquil oasis
DIRECTIONS
Pour the 50ml concentrate into your al.ive home Cleaning Refillable Bottle. To avoid excess foaming, slowly fill bottle with tap water to the 450ml line. Give the bottle a good shake and it's ready to use. Spray on chosen surface and wipe clean with Microfibre Cloth.